I know that it is a dream for many to travel to Leh and Ladakh. The endless roads, open blue sky, and the beautiful rugged mountainous landscape. Who wouldn't wanna be a part of that picturesque experience?
But it is well known how rough the climate condition can be, so do you know the best time to visit Leh Ladakh?
If you don't, that is the reason why I am here. I am going to break down to you the best time to visit Leh Ladakh and the Ladakh holiday packages.
Weather Condition In Leh Ladakh
| | | |
| --- | --- | --- |
| Month | High/Low(degree Celsius) | Rain |
| January | -15/-23 celsius | 1 day |
| February | -14/-24 celsius | 0 days |
| March | -9/-19 celsius | 3 days |
| April | -4/-14 celsius | 3 days |
| May | -1/-10 celsius | 3 days |
| June | 2/-6 celsius | 6 days |
| July | 7/1 celsius | 4 days |
| August | 7/1 celsius | 8 days |
| September | 4/-2 celsius | 3 days |
| October | -4/-10 celsius | 2 days |
| November | -8/-15 celsius | 1 day |
| December | -15/-23 celsius | 0 days |
Best Time to Visit Leh Ladakh
So, here is the guide for travelling time to Leh Ladakh that you can follow to set your trip accordingly.
1. Leh Ladakh In Summer (April-June)
You may not believe me, but Ladakh is one of the most beautiful places in the summer and a lot greener than expected. The few weeks of summer from April to June, tourists start to migrate to Ladakh to enjoy the beautiful summer here.
This is the time when hotels give out the most discounts and offers. So you won't have to burn your savings a lot as well. This is the best time to visit Leh Ladakh by road.
Even though it's summertime, you can still see a fair share of snow, mainly near Chang La and Khardunga La passes. Leh Ladakh best time to visit is now.
2. Leh Ladakh In Monsoon (July-August)
If you are an adventure traveler and want unique experiences in life, then you can visit Leh Ladakh from July to August. But I must tell this is neither the best nor the safest season to visit to Leh and Ladakh.
The danger of landslides and snowslides are always there. The added bonus of roadblocks and areas falling under rain shadow is even dangerous.
So I would suggest you avoid Leh Ladakh during the monsoon time altogether, why risk your life traveling there?
3. Leh Ladakh In Early Winter (September-October)
After the rain washes away, the bright, beautiful colors of the valley appear before us. The Autumn season is the best time to visit Leh Ladakh by bike and take in the actual beauty of the place.
This is the time when most tourists plan to visit Leh Ladakh to enjoy both the cold chill as well as the picturesque scenery.
4. Leh Ladakh In Winter (November-February)
If you wanna experience the snowy Ladakh, then come around these four months. The freezing cold weather is surely going to be an experience worth remembering. But this is the best time to visit Leh Ladakh for snowfall.
But traveling by road at this time can be dangerous due to black ice formation. Only tourists confident enough in the freezing cold should visit at this time.
Events And Activities In Leh Ladakh
1. Mountain Biking
It is like a dream for most people to ride around on their bikes along the road. But it is definitely not for the light-hearted. The landscape and terrain of Leh Ladakh make the bike ride most challenging.
2. Trekking
One of the best places to go for a trekking expedition. 2750-7672 meters above sea level, making Leh Ladakh an excellent destination for trekking and camping.
If you are traveling with a tour company, then there are many different trek tour plans for you. For trekking, try to avoid the winter months, but from June to October, the weather is great for trekking. The rain doesn't bother the trekking routes as much.
3. Dance Festival: Lamayuru Monastery
If you are a cultural person, then definitely try to visit the Lamayuru Monastery; it is the largest and oldest monastery in Ladakh. Built around the 11th century, beauty and architecture are more than words can say.
Here every year, two mask festivals take place each year during the fifth and second months of the Tibetan Lunar calendar.
4. Karsha Gustor Festival
The festival of Karsha Monastery marks the joyous victory of good over all that is evil. A Black Hat Dance is also performed to celebrate this festival.
A masked dance is performed by the monks there called the "Chaam." This festival is also called the Spitok Gutor Zanskar Festival.
5. Frozen River Trek
The Zanskar lake here normally freezes during the months of January and February. This is when all sorts of adventure sports happen above the lake. The frozen lake creates a pathway that connects to the main valley.
This trek attracts tourists from all over the world, also known as the Chadar Trek. It is known to be the most challenging and dangerous trek in the world.
6. Ladakh Festival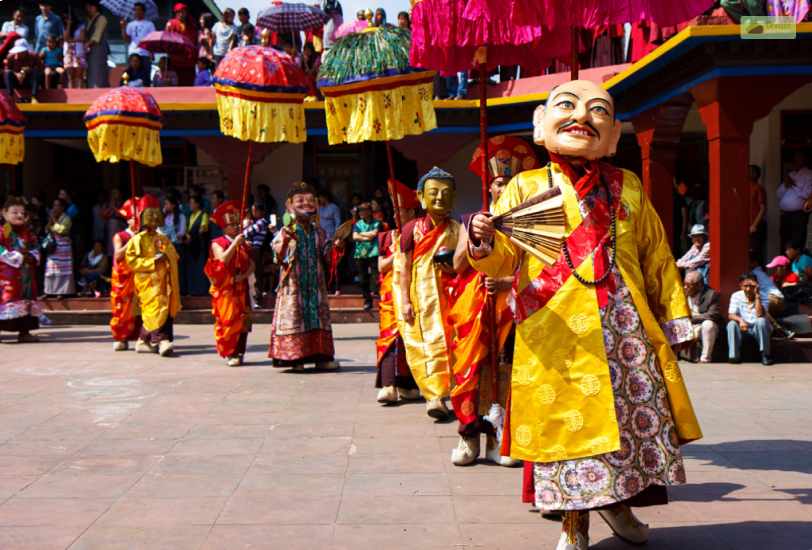 The Ladakh festival is the annual fiesta that is organized by the Jammu and Kashmir Tourism Departments. All sorts of performances like music, folk dances, arts & craft exhibition, and mask dances are performed.
This festival serves as a wonderful opportunity for the tourists to experience the art and culture and the lifestyle of the people here.
7. Losar Festival
The Losar festival of Ladakh is known to be one of the main festivals of Tibetan Buddhists. The festival is performed with traditional folk dancing and songs. This festival is celebrated for 15 days, so make sure not to miss it.
Frequently Asked Questions (FAQs):
1. In Which Month Is Ladakh Closed?
Generally, both these locations are closed during the months from November to April or even till mid-May. The reason is due to heavy snowfall on important passes and roads.
2. What Is The Best Time To Visit Leh Ladakh By Road?
The best time to visit Leh Ladakh is from May to October. Around this time, the roads are clear, and the temperature is also great for tourists.
3. How Many Days Are Enough For Leh Ladakh?
To experience everything Leh Ladakh has to offer then, you would require at least 7 to 10 days total.
Visit Now!
Leh Ladakh is considered to be a dream travel destination for most, But there are certain things you must keep in mind before visiting. Due to the severe climate conditions, brings enough warm clothes and medicines for every possible symptom.
You should also remember to drink plenty of fluids to avoid dizziness or headache due to the height. Remember to carry a 1000mAh power bank with you and a couple of batteries as, due to cold weather, batteries drain quickly.
Read Also: